The World University Floorball Championship is played bi-annually. This time the tournament takes place in Lodz, Poland 26th-30th of June.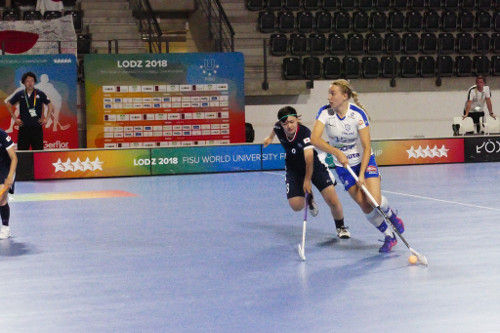 Wednesday brought many uneven matches at both tournaments. The day started with a meeting between Czech and Singapore, in which the Singapore found themselves completely overpowered, losing 23 – 0. However, they are determined not to give up – "Singapore will definitely come back stronger and we´ll hope to score our first goal soon" – says Nurul Amirah Abu Bakar.
At the same time, Japanese men struggled in a match against Finland. With the ball almost exclusively in the Japanese half, the Finnish scored 29 goals, losing 2 to the opponents. The women's counterpart, played in the afternoon, was equally dominated by Finland. In a smashing victory, Japan was defeated 33-0. Bad situation on the rink did not, however , dampen the enthusiasm of the Japanese teammates, loudly cheering for the team.
The one truly even match of the day was the meeting between Slovakia and Switzerland – men. It was a hard-fought match full of physical contact. Slovakia got the lead after a counterattack in the 1st period, and it was not until the 2nd part that the Swiss could tie from a penalty shot awarded for a Slovak player´s violent tackle. The game remained tied for a long time thanks to goalkeepers' outstanding performances and well-organized defensive game, but a couple of minutes before the end, the Swiss, playing without goalkeeper, managed to score what seemed like a winning goal. However, it was not meant to be – Slovakia, not giving up, was awarded a penalty shot at 58:29 and made the most of it, ending the game with a first draw of the tournament.
In the last match of the day between Poland and Singapore – men, the Poles took the lead quickly, scoring twice. In response, Singapore improved their defence and started pushing strongly on the opponent's goal. Later on, despite better play, Poles found it hard to score even with 2 Singaporean players sitting out penalties. Nevertheless, the host team managed to win 4 – 1 with Singapore scoring once from a penalty shot.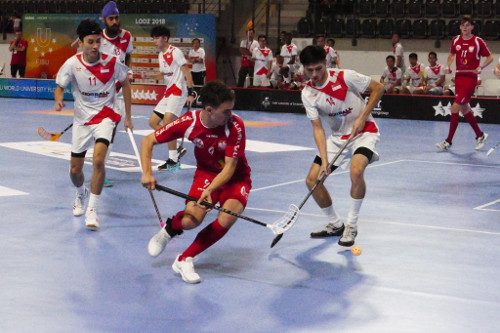 Interviews
Kevin Soderling (FIN)
We scored a lot of goals and played a good game but japanese boys did really well, they kept on fighting till the end and didn´t give up. Now our goal is to win the tournament.
Veera Kauppi (FIN)
This is very interesting to play against new teams. I think they showed us great team spirit today and that was a good game for us. Now we want to be better every time we go on a field and win next matches. That was a good game, but there are going to be really tough matches so we have to do well and hopefully we will be able to win.
Rudolf Turiak (SVK)
We are really satisfied with the result, it´s good that we could equalise in the last minute. We know that we could have scored even earlier and make the match more interesting. But for us it is a success and a really good step ahead in the tournament. This game was not only about goalkeepers but more about defenders. Both defences did a really good job and blocked many shots. With such a defence, goalkeeper´s tasks are easier. Against Poland it will be a really tough game for they are playing at home, but we´ll do our best to finish first in the group. We feel the chance, we just have to seize it. It would be a great achievement.
Jian Hong Lim (SGP)
I think my team played very well, we were focused from start to the end. Unfortunately we didn't manage to score more goals but I am very proud from my team. I think we have to believe more in ourselves and trust eacj other on the field and then It will be even better
Source and original news can be found here.
Highlights and full matches on IFF YouTube Channel 1 and Channel 2