Brazilian Floorball Championship was played 20th of November and Anhangueras was victorious.

The 4th Brazilian Floorball Championship took place in the City of São Paulo, Brazil in November. 10 teams, divided into 2 groups, disputed the trophy. This was an exciting first time for 6 teams: Albatroz (Guarulhos), Invictus (Campinas), Hockstar (Curitiba), Superação, Campo-Grandense and Dragões (Rio de Janeiro).
After thrilling matches, Anhangueras, from São Paulo, got the championship for the second time in a row, with the top scorer, Frank Bichsel and the best goalkeeper, Euclides Bugs. Marcelo Ranthum, from Hockstar, was elected as the MVP.
Standings:
#1 – Anhangueras (SP)  – Gold Medal
#2 – Vikings (SP) – Silver Medal
#3 – Hockstar (PR) – Bronze Medal
#4 – Hawks (SP)
#5 – Arca (SP)
#6 – Invictus (SP)
#7 – Dragões (RJ)
#8 – Campo-Grandense (SP)
#9 – Albatroz (SP)
#10 – Superação (RJ)
MVP: Marcelo Ranthum (Hockstar)
Best Goalkeeper: Euclides Bugs (Anhangueras)
Top Scorer: Frank Bichsel (Anhangueras)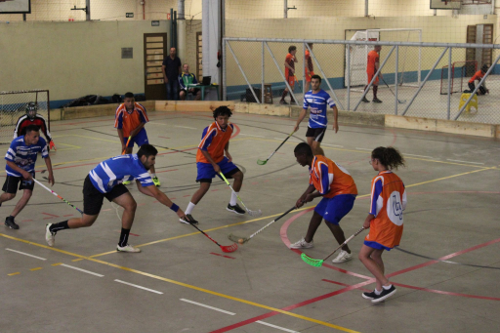 – It was a balanced championship, with really tough matches and slight difference among the teams. This year´s venue was also important. The school Externato Nossa Senhora Menina gave us a great rink to properly receive players and spectators, said Adriano Serafim, Sports Director of the Brazilian Floorball Association (ABF).
– Seeing the enthusiasm of players coming from 3 different states (Rio de Janeiro, Paraná and São Paulo) competing for the gold medal, show us that Brazilian Floorball Association (ABF) even with the difficulties, is on the right track. We had 100% increase on the number of players compared to last year. My thanks to all teams, our international referee Nélio Mendonça and to the teacher Tiago Macarin Rodrigues who assisted us to organize the best Brazilian floorball championship, said Emilio Bugs, General Secretary of Brazilial Floorball Association (ABF).
More information:
www.floorball.com.br
www.facebook.com/floorballbrasil