Special Olympics Europe Eurasia Floorball Seminar was hosted in Riga, Latvia this past weekend with a fully rounded agenda.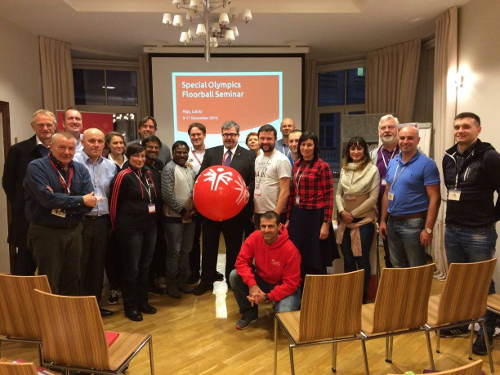 Photo by Special Olympics Europe Eurasia Facebook page
18 floorball coaches from 14 European countries and India attended the event that was hosted in partnership with International Floorball Federation (IFF). The participants got to observe several games during the IFF Men´s World Floorball Championships semi-finals and interact with the leaders of the world floorball community. John Liljelund, IFF Secretary General attended the opening session on December 9th and shared a very positive message about the partnership. During one of the intermissions of the games, two Special Olympics Latvia Floorball teams conducted a demonstration game. This game was broadcasted live by several TV channels in Europe. The Seminar also consisted of theory and practical sessions conducted by Steen Houman, SOI Floorball SRT Chair and the coaches left Riga ready to pass on the skills and technique they've learned from the seminar to their teams.
Story by Special Olympics.