Generation Floorball is a company that promotes floorball in the USA and aims to get the sport recognised in the North America.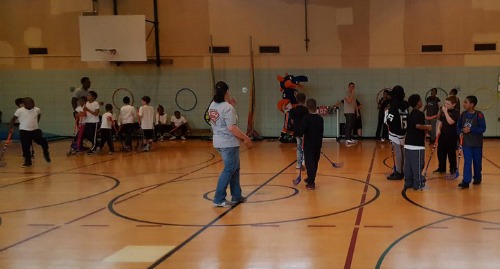 Generation Floorball is promoting floorball in the USA. Some might have seen their videos of playing floorball with the locals on Times Square, New York and in other locations. They also had a project together with the NHL team NY Islanders, where they introduced the sport to eight different elementary and middle schools in Brooklyn.
In their article in April they stated that more and more schools have shown an interest in floorball:
-Schools are now seeing the value in floorball as a PE activity, and the fact that the sticks won´t damage your floor is also a bonus. The company even has a step by step guide for the schools on how to get started.
Though the sport is spreading, some states are in the forefront. Texas, Wisconsin, California, New York and Colorado are said to be some of the states where the sport perhaps has taken off faster than in other areas.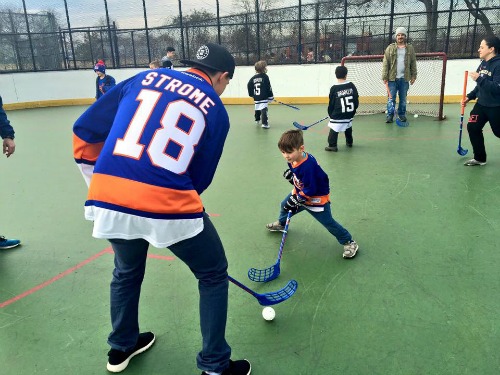 Generation Floorball has also explained in their latest article why floorball is a great sport for schools:
"Floorball is fast, fun, safe and relatively affordable. There are of course activities out there that are cheaper than floorball. The fact is; however, that floorball has been proven to be such a positive tool to utilize in the school setting.
First of all, the activity is safe. There is a significant higher chance of injury from other types of team activities, such as regular floor hockey. The nature, design and weight of the floorball stick also ensures that students of all ages can take part in floorball activities. Floorball is also an inclusive sport, meaning that everyone can participate, regardless of size and physical ability.
The nature of floorball in a school setting is also quite flexible. The sport can be played through regular matches, but also as relay-races, obstacle courses and in the form of traditional games such as steal the bacon "floorball style".
Floorball should also be seen as a valuable component from a developmental perspective. While playing floorball, students are constantly moving around while trying to move the ball to their peers with the use of a stick. This notion will have a positive impact on the students' motor skills including hand-eye coordination and balance. Oh and the best part is that floorball equipment has been designed not to damage/scuff gym floors."
Generation Floorball has made a step by step guide for the schools that helps them to get started.
The International Floorball Federation (IFF) also understands the importance of floorball in schools. In January, The IFF published a School Floorball Curriculum that aims to enhance the level and the development of Floorball played in schools. The main objective of the curriculum is to give both National Floorball Associations and local School Authorities a better understanding of how to teach Floorball and provide ideas on how to introduce Floorball as a new sport and build your own school curriculum for it.
Photos and source: Generation Floorball