The 7th Women´s U19 World Floorball Championships 2016 are played in the Quinte Sport & Wellness Centre, Belleville, Ontario, Canada, 4th – 8th May 2016. The tournament is played with A- & B-division, divided into two groups.
A-Division (teams & ranking):
Group A: Sweden (1), Switzerland (4), Slovakia (5), Norway (9)
Group B: Finland (2), Czech Republic (3), Poland (6), Latvia (7)
B-Division (teams & ranking):
Group C: Hungary (8), Austria (12), USA (-)
Group D: Canada (10), Germany (11), Japan (-), Thailand (-)
Make sure you don´t miss any of the WU19 WFC 2016 action!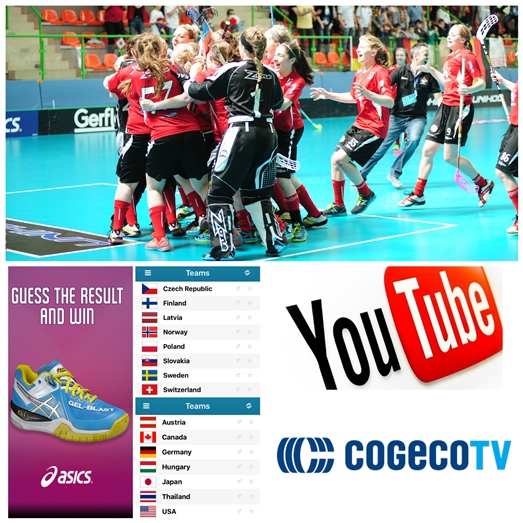 TV & YouTube matches
The floorball fans in Ontario, Canada will be able to watch live WU19 WFC matches on TV. COGECOTV in conjunction with their broadcast partner RogersTV, will show every game from the main court at Yardmen Arena.
For the fans not in Canada there will be live-streaming on the IFF YouTube channels. Every match ‬ can be watched live on the IFF YouTube channels. Full game replays will also be available.
Channel 1 – Yardmen Arena: www.youtube.com/iffchannel
Channel 2 – Rink B: www.youtube.com/ifflive
WU19 WFC Mobile App
All fans can also catch all the WU19 action on the IFF Events mobile app.
Get all the Women´s U19 WFC results, stats, news, Instagram photos, #floorball & #U19wfc tweets and YouTube live matches directly to your iOS or Android device. Guess the results, collect points and win ASICS shoes!
WU19 WFC Websites
Match reports, results, standings and statistics are also available on the official WU19 WFC website: http://floorball2016.ca and the IFF WU19 WFC 2016 web page.
WU19 WFC Photos
Photos from the WU19 WFC matches will be available on IFF flickr: https://www.flickr.com/photos/IFF_Floorball (mention source & photographer when using)
WU19 WFC on Social Media
U19 WFC social media accounts:
Facebook: www.facebook.com/U19WFC
Twitter: https://twitter.com/U19WFC
Instagram: https://instagram.com/u19wfc
#u19wfc #floorball
IFF social media accounts:
Facebook: www.facebook.com/IFF.Floorball/
Twitter: https://twitter.com/IFF_Floorball
Instagram: https://www.instagram.com/iff_floorball/
#u19wfc #floorball