The last group matches were played on Wednesday and on Thursday it was time for the placing matches. Russia took the 5th place after a tight match, the victory over Latvia was secured with an over time goal and the final result was 4-3. Canada won Italy 4-3 and took the 19th place of the tournament.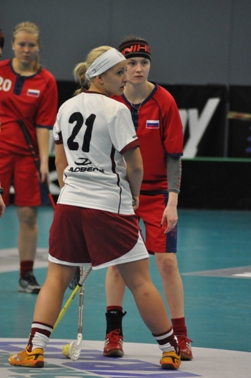 The first period was tight and even though Latvia controlled the ball, no goals were seen. In the second period Latvia took more charge of the game and with two goals scored by Edite Bankava Latvia gained 2-0 lead. In the end of the second period also Russia succeed to score, when the skillful forward Maria Kitaeva scored with an accurate shot to the top corner.
Latvia started the third period with a power play, which they were able to utilize as Tatjana Varsa scored 3-1 to Latvia. After that the ball possession moved to Russia and they started to control the tempo of the match. Russia was able to reduce the lead and only three minutes before full time Liubov Serebriakova scored the 3-3 equalizer and extra time was needed.
The decisive goal was seen when half of the extra time was played. Maria Kitaeva shot from right, but Latvian goalkeeper Lauma Visnevska was able to save the shot. The however ball bounced to Julia Sadretdinova who was able to place the ball in the net. This goal secured the victory and 5th place of the tournament for Russia.
The Russian head coach Valeriy Mochalov was pleased after the match.
– "This was really exciting match and the most important match of the tournament for our team."
The good performances in the matches against Finland and Poland gave self confidence to Russian team before the match.
– "We felt that we were good enough to win Latvia. Our physical condition is in high level and the rest day helped also. The first two periods Latvia had more control, but the third period was ours and I felt confident also about the extra time. I am really glad that we were able to win the match and improve our ranking."
Victory over Italy confirmed the 19th place for Canada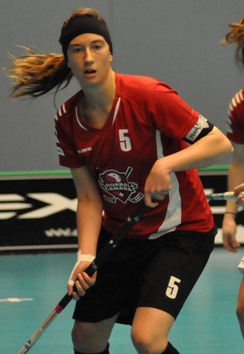 Canada and Italy chased their first victory in the tournament, when the countries met in the match for the 19th place. Canada started the match effectively and when 10 minutes were played, the Canadians had already 3-0 lead.
Italy came back to the match in the beginning of the second period, when they were able to reduce the lead to 3-2.
The breaking point of the match was seen in the beginning of the third period, when Johanna Laurila (2+1) shot her second goal in the match. The final score was 4-3 to Canada and therefore Canada was 19th and Italy 20th in the tournament.