Kids with Sticks was  an IFF Development Project which took place in April 2016. Its main objective was to provide children the joy and benefit of sports and to develop Floorball at the same time. The project was launched 4th of March 2016 and everyone from around the world was able to apply. The IFF received almost 30 applications and chose 10 recipients that the IFF believed would benefit most from the sticks.
The IFF donated 10 UNIHOC Floorball equipment support packages that included 30 sticks (length 70-80cm) and 30 balls
The applicants that received the sticks were:
Townsville Floorball Association (AUS)
Floorball Club "GROMOVI", Banja Luka (BIH)
Floorball Nova Scotia (CAN)
Cameroon Floorball Association (CMR)
Tallinna Tondi Põhikool (EST)
Youth4change Foundation Limited (JAM)
Lithuanian Floorball Federation (LTU)
Floorball Academie Nederland (NED)
Orem Fitness Center (USA)
Utah Saints Floorball Club (USA)
The Kids with Sticks Project was supported by the IFF Partner UNIHOC.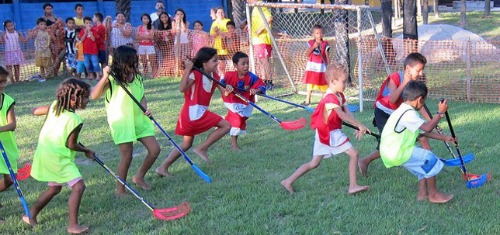 Photo: floorball4all, www.floorball4all.ch