On the 30th of May, one of the biggest youth sports events in Switzerland took place in Lausanne: the Swiss National School Sport Day.
This was already the 49th edition of this event (https://www.schulsporttag.ch). Nowadays physical education (P.E.) is an integral part of the school curriculum all over the world and for many the inspiration to sport. To underline the importance of the afore-mentioned even the IOC President Mr. Bach was there to give a speech about school sports as well as the impact sport, and the Olympic values, respect, excellence and friendship, in life in general.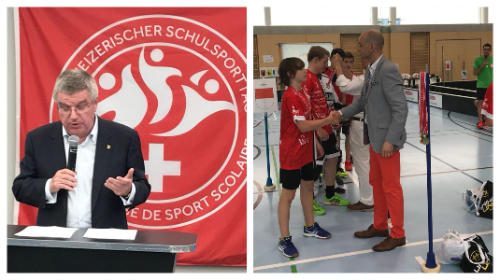 Over 2500 pupils and teachers from 25 cantons competed in 12 disciplines during the day. Among the disciplines was also floorball both for girls and boys. The IFF was glad to facilitate the participation of Unihoc Switzerland as sponsor for the floorball events in the form of material prizes for the three best teams in male and female categories. The IFF was represented by IFF Sales Coordinator Mr. Tero Kalsta who jointly with the Regional League President Mr. Michel Ruchat handed out the medals and prizes.