The most successful Swiss floorball player, Matthias Hofbauer became the first player to break the 1000 mark in Swiss NLA.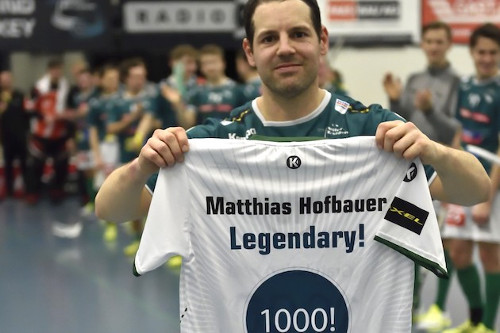 Photo: Hans Ulrich Mülchi / SVWE
Swiss national team player and floorball legend Matthias Hofbauer made history as he scored his 1000th point in the Swiss Top League, NLA. Hofbauer is the only player in the Swiss league who has broken the 1000 mark.
The record point was scored as his team SV Wiler-Ersigen played their first play-off match against UHC Uster. At 54:17 Hofbauer extended his team's lead to 11-5 and scored his fourth point of the match, breaking the 1000.
Hofbauer played his first matches in the NLA already in 1997 and has nearly 500 NLA matches behind him and more to come. He has also played in Sweden.
Watch how he scored the historical point from the video below
Source: Swiss Unihockey
Mika Kohonen was the first to break the 1000 mark in the Swedish Top League SSL. In Finland, his brother Mikko Kohonen scored his 1000th point in January.