Belgium, Poland and Finland were victorious in the final day of the WFCQ 2018 EUR1 and Poland qualified as the third team from this qualification after 6-2 vs Netherlands.

Liechtenstein-Belgium 5-14
The first match of the last day was played between Liechtenstein and Belgium and ended with the score 5-14.
Both teams were a bit tired in the end of the tournament, but nevertheless worked really hard on the field, especially Belgium that showed that they have developed a lot and aim for a higher level. Liechtenstein scored 5 goals which became the best result for them in the qualifications, and Belgium took their first victory.
MVP of the match
Liechtenstein: #7 Corsin Derungs
Belgium: #12 Alec Boutmans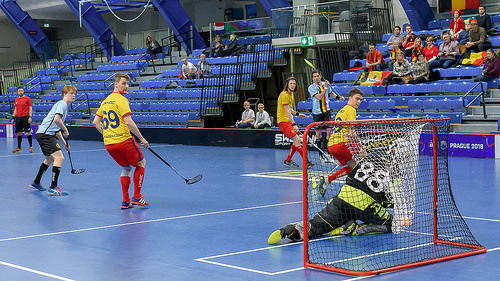 Netherlands-Poland 2-6

The game between Netherlands and Poland was thrilling from the first second of the match. Poland had some troubles getting their game going disturbed by the Dutch game plan and most probably also by own nerves. Netherlands on the other hand was wholeheartedly looking for the goal scoring opportunities. Poland was not an easy opponent for Netherlands, but they kept a strong game till the end, coming fourth in the EUR1 qualifications. Poland won Netherlands by 4 goals and therefore secured their place in the World Floorball Championship Final round in Prague.
MVPs of the match
Netherlands: #1 Dimitri Vermaat
Poland: #52 Lukasz Chlebda
Estonia-Finland 1-15
Estonia and Finland played the last match in this qualification as they did also in the WFCQ 2016 and managed to get the same result 1-15 as in that qualification!
Finland had to work hard and had 2-0 only after the first period but in the 2nd and 3rd period the scoring efficiency was in place and Finland scored 13 more goals. The Estonian goal was scored at half the match and meant 1-7 at that time.
MVPs of the match
Estonia: #88 Gerdo Unga
Finland: #22 Jani Kukkola
Match replays are available on IFF YouTube Channel 2 and photos on IFF Flickr.
For all results and statistics visit the WFCQ 2018 EUR1 Event page