Russian Nauka and Polish Gdansk were battling for a place in the final in the morning match. Nauka had dominated the whole tournament, but they had trouble this morning. Gdansk's physical defence didn't allow them to score and Gdansk goalkeeper was also playing confidently. Nauka players tried to play too much as individuals instead of as a team. The usual beautiful passes that we had seen throughout the tournament weren't there. Gdansk players played the match as a team and in the end won it 7-4 and earned their place in the EFC Final.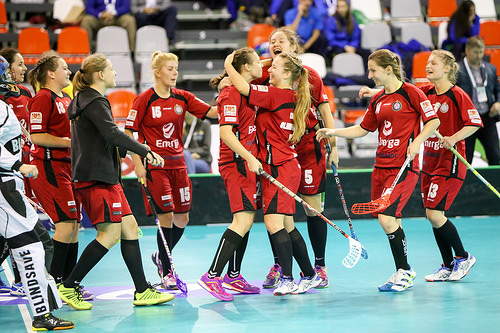 Nauka were not on top of their game. A mistake in their own end cost them as Gdansk scored their opening goal. This changed the match. Suddenly Nauka, who had dominated the whole tournament, were left confused as only 30 seconds later Gdansk's fast passes found their way to behind Nauka goalkeeper's back with a little help of Nauka player's stick. Nauka were making scoring difficult for themselves, but after several chances #59 Svetlana Viktorova scores directly from a free-hit. Few minutes later Nauka had evened the score to 2-2.
Nauka's troubles continue in second period. Gdansk's physical defence is a good match for Nauka's technical skills and the Polish team block shots effectively. Gdansk's goalkeeper #82 Patrycja Bernacka is also doing an excellent job. Nauka can't handle fast counter attack and #15 Anna Raczkowska takes Gdansk to 3-2 lead. Halfway through the period, Gdansk gets a powerplay and uses this to extend their lead to 4-2. After 40 minutes the score is 5-3 for Gdansk.
With 19 seconds played of the third period, Nauka decreases the score to 4-5. At 53:40 Gdansk's fast passes lead to a breakaway, which #29 Malwina Zagorska uses and increases her team's lead to 6-4. Nauka didn't stop trying, but once again Gdansk players were blocking their shots and the last line was the Gdansk goalkeeper. Nauka got frustrated, which could be seen as the players were trying to individually decide the match. In the end Gdansk won the match 7-4 and made their way to the EFC Final. This is the first time in EFC history, that Nauka participates in the tournament but isn't in the final.
Best players:
Nauka #26 Mariia Basargina
Gdansk #6 Karolina Damps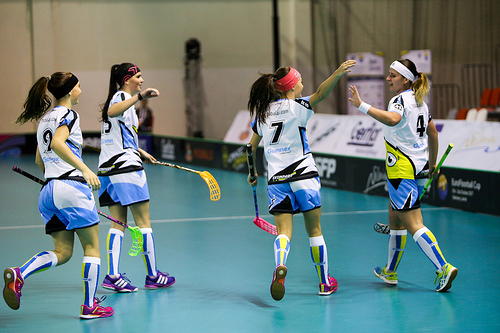 The match between Latvian Rubene and Slovakian Pruske would decide which team would make it to the final to play against Gdansk. Both teams were fighting hard, but Rubene's careless play at the start of the match cost them dearly. Rubene should've also been able to utilise their several powerplays, including a five-minute powerplay, better in order to get ahead. Technically skilfull Pruske won the match 7-6 and will join Gdansk in the EFC final.
With only few minutes played, Pruske's #9 Michaela Zikavska fools Rubene's defence and passes the ball to #33 Ema Fancovicova who takes Pruske to 1-0 lead. Rubene are playing carelessly and Pruske are reading their game well. This lead to good interceptions and counter attacks. At 12:17 one of Pruske's key players #4 Ivana Hrehusova snatches the ball in front of the goal and scores. With three minutes left, Pruske are already in a 3-0 lead. At the end of the period, Rubene's captain #8 Liba Daija Mikova shoots a low, powerful shot into the net on powerplay and decreases the score to 1-3.
Rubene got a chance at a 5-minute powerplay as Pruske player's stick hits the opponent's head after a shot. They didn't use it to their benefit. The ball wasn't moving enough and they were shooting at the Pruske players. However, during their next powerplay it only took them one second to score, making the score 2-3. At the end of the second period Pruske are in lead with score 4-3.
More special situations were seen during third period as both teams were penalised. Rubene even took the lead with a shorthanded goal, but Pruske first evened the score and then took a 6-5 lead. Rubene evened the score with beautiful passes and a one timer with only few minutes left on the clock. Their joy was cut short as only a minute later Pruske scored again and won the match 7-6. Pruske will play in the EFC final against Gdansk.
Best players:
Rubene
Pruske