Piranha Chur defeated the reigning champions UHC Dietlikon in the Swiss Indoor Sports Supercup last Saturday. In the Men's match SV Wiler-Ersigen were victorious against GC Zurich.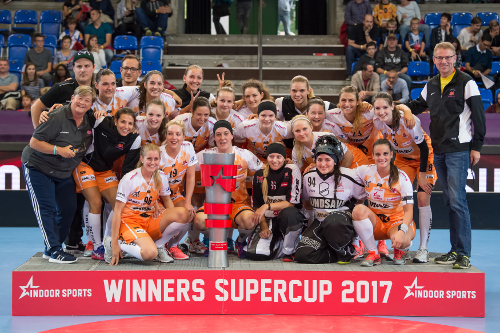 The third Swiss Indoor Sports Supercup Floorball event took place in in Zurich 2nd of September. The Indoor Sports Supercup is a tournament that combines four different sports. It's organised by the federations of handball, basketball, volleyball and floorball. All four sports have two categories: men and women.
Four NLA (top Swiss league) teams were playing at the event. In the Women's the teams were the reigning champions UHC Dietlikon and the current silver medallists Piranha Chur. Last season UHC Dietlikon won it all; Supercup, Swiss Cup and the Superfinal, but now it was Piranha Chur's turn to raise the cup. The match started rather cautiously and was even after the first period. During the second period Piranha Chur took a 5-3 lead and already extended their lead with two more goals in the third period. UHC Dietlikon were unable to even the score and Piranha Chur won the match 8-6.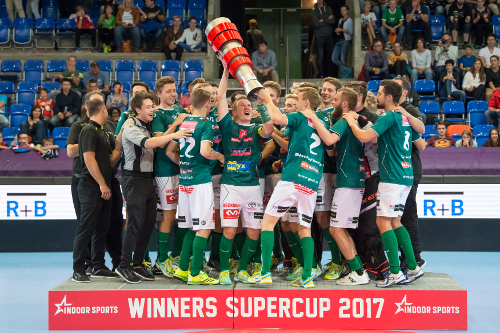 In the Men's match the reigning champions SV Wiler-Ersigen faced Swiss Cup winner GC Zurich. Both teams played a good defence and it took 18 minutes to see the first goal, which was scored by GC Zurich. Only a few minutes later SV Wiler-Ersigen evened the score with a beautiful zorro-goal. SV Wiler-Ersigen took the lead with 32 minutes on the clock and the score stayed 2-1 before the anticipated third period. Both teams succeeded, but in the end, it was SV Wiler-Ersigen who won the match 3-2 and raised the cup in the sold out Saalsporthalle.
Season's (2016-17) best were awarded at the Swiss Indoor Sports Supercup.

Awards Women
MVP: Andrea Gämperli (UHC Dietlikon)
Goalkeeper: Monika Schmid (UHC Dietlikon)
Coach: Simone Berner (UHC Dietlikon)
Referee pair: Manser / Lehmann
Top scorer: Andrea Gämperli (UHC Dietlikon
Awards Men
MVP: Tim Braillard (UHC Alligator Malans)
Goalkeeper: Martin Hitz (UHC Alligator Malans)
Coach: Esa Jussila (UHC Alligator Malans)
Referee pair: Wehinger / Zurbuchen
Top scorer: Joël Rüegger (GC Zurich)
Photos: Fabian Trees