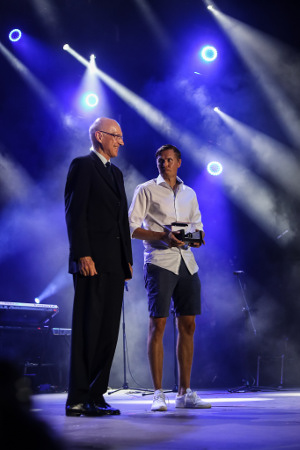 Every day the International World Games Association awards prizes for IWGA Athlete of the Day – powered by Tissot! On the last day of The World Games, the jury of experts selected Floorball player Mika Kohonen (FIN) and the DanceSport couple Anna Miadzielec – Jacek Tarczylo (POL). IWGA Vice-President Max Bishop presented the athletes with Tissot watches during the Closing Ceremony on the stage of The World Games Plaza next to National Forum of Music.
Mika Kohonen is a floorball legend who has been part of the Finnish national team since 1997. He is the only floorball player at The World Games 2017 who also took part at The World Games 1997, when floorball was previously at the Games – then as an invitational sport. He has been chosen as the best floorball player in the world five times (2005, 2009-2012) and he is still one of the top players at 40 years old. He is the only player in the Top Swedish League, who has scored over 1000 points and he is also third in the World Floorball Championships All Time top Scorers. Several years ago, he was injured and could not play, which led him to a depression. He talks openly about his depression and says it taught him a lot and made him a stronger person. At The World Games 2017 he was one of the most important players in the bronze-winning team of Finland – 20 years after his debut on this level.
Text by IWGA. Original news can be read here.
The IFF wrote a personal interview of Mika Kohonen where he sheds more light on his depression, continuing of his career and memories. You can read it here.
Photo: IFF Flickr / Mika Hilska