Andrea Gämperli and Tim Braillard were elected as the most valuable player and the most valuable players of the past floorball season in Switzerland.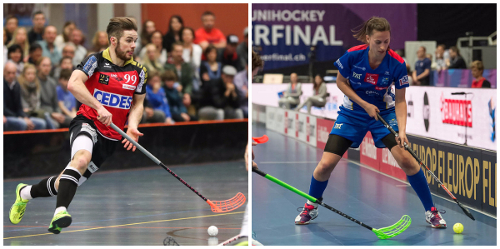 The choice of the MVPs (Most Valuable Player) of the season 2016/17 is certain: the prestigious title goes to Andrea Gämperli (UHC Dietlikon) and Tim Braillard (UHC Alligator Malans). The choice was based on fans´ votes (50%), media (25%) and captains and coaches of the NLA teams (25%).
Andrea Gämperli had a successful season. The 22-year-old won the Supercup, the Cupfinal and the Superfinal and was also the top scorer of the league with 42 points (20 goals, 22 assists). Tim Braillard could not lift up the championship cup after the final against SV Wiler-Ersigen, but was a key player in UHC Alligator Malans and is one of the best players in the league.
The MVPs will be rewarded at the Indoor Sports Supercup, which will take place for the second time in Saalsporthalle Zürich on September 2nd, 2017. The Top scorers of last season Joël Rüegger (GC Zurich) and Andrea Gämperli (UHC Dietlikon) will also be awarded. The best goalkeepers, coaches and referees will be announced at the Supercup.
Photos: Swiss Unihockey Flickr / Erwin Keller & Fabian Trees