Team Switzerland´s head coach David Jansson said in his interview (read it here) that being with the team longer than the other top 4 team coaches, gives him an advantage. Read below what kind of a team Switzerland will be seen at The World Games in Wroclaw.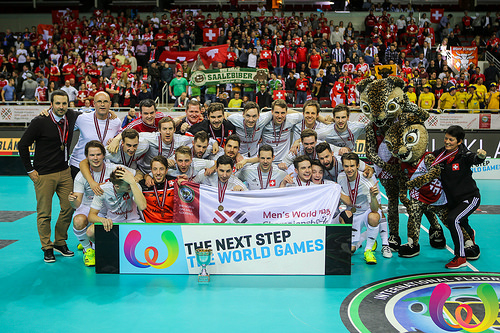 How did you decide on this roster?
We of course had to think of a lot of things, since we normally get to nominate more players. But after all it basically came down to picking the roster that we think will give us the best possible chance to win the tournament. We have picked players who have the mental drive to succeed in big games.
What kind of a team do you have?
The team consists of several players who can play different positions and types of floorball. We are dynamically built. We have a team with lots of good special team players. We also have a group who like to be together, have fun together and perform together.
If you would need to use only three words to describe the team, what would they be?
Dynamic, relentless and fun.
What are your team's strengths and weaknesses?
We are a team which can play in different ways on defence, and during the last years we have also increased our ability to outplay opponents with the ball. We are facing great teams, and we know that we need to play on top to give us a chance against the best teams. And that is really what I potentially see in this group of guys: a good performance that could lead us to something big results-wise.
Which three players people should watch and why?
I would keep an eye on all Swiss players, but having to pick three I would go with:
Manuel Maurer: who can create situations from nothing.
Tim Braillard: who is an engine in his line.
Luca Graf: who is an offensive and defensive force for us.