Emanuel Antener has represented Switzerland in several events. He has been a part of the Men´s, U19 and University teams. Now he has decided to end his playing career.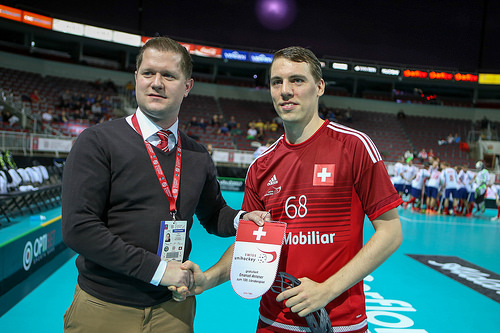 Antener played his 100th international match in WFC 2016 in Riga
Swiss national team player Emanuel Antener has announced that he's ending his playing career. Antener had several reasons behind quitting:
– We're not professional in the way that we can do this full time. The whole career has been a puzzle with education, work and the private life. I've always had big ambitions in my education and working life, and since I've also become a father, it's gotten even harder to combine floorball with civil life. I didn't want to compromise as much on the civil life in order to play floorball. I could've compromised on the floorball and had less practices than the team, but I feel like elite sport isn't meant for compromising if you're ambitious.
The 29-year-old forward also mentioned some health issues:
– In my very last game I broke my arm. It's not the worst type of injury but it still takes some months for it to recover. I've had some issues with my back as well, but I could play anyway. During my surgery for my broken arm, they discovered that it was a spinal disc herniation, which is pretty serious. It's not only the injuries that played a role in the decision process, but it was a kind of a signal that it's time for something else.
During his career Antener was quite the scorer. He broke two WFC records in 2012: Most points in a single WFC event (26) and most Assists in a single WFC event (17). He was also chosen to the All-Star team in the same event. He has represented Switzerland at the U19 WFC as well as in two World University Floorball Championships. He has played in the SSL for AIK Innebandy, but most of his career he played in the NLA for Floorball Köniz. Antener was part of the IFF's Athletes' Commission 2012-2016.
Quotes from FloorballToday. Read the whole interview here.