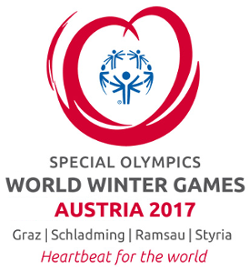 The Special Olympics World Winter Games 2017 will be the biggest World Winter Games in the history of Special Olympics: About 2.700 athletes from 107 nations are going to compete in Austria. The event will start tomorrow, 14th of March and ends on the 25th.
Floorball was for the first time included as a demonstration sport in the Special Olympics World Winter Games played in PyeongChang & Gangneung, 2013 and the tournament was played with eight teams. Now in the Special Olympics World Winter Games 2017 in Austria, Special Olympics Floorball will be an official sport. This year's tournament will be played with over 40 teams from 30 different countries such as Finland, Ghana, Ireland, Mexico and Uruguay. Click here to see the programme of the first round for floorball. After the first matches the teams will be divided into divisions according to their skill level. From here, you can find out when floorball is played.
Floorball will be one of the nine sports on the World Winter Games programme 2017. The nine sports are the following: Figure skating, Speed Skating, Floor Hockey, Floorball, Snowshoeing, Alpine Skiing, Nordic skiing, Snowboarding, Stick shooting. Floorball will be played in the Graz Messehalle. Special Olympics Floorball is played three versus three plus goalies. The playing area is 20 x 12 metres.
More information on the World Games 2017 website: www.austria2017.org/en/home