Of all the top national leagues, the Swiss Men's regular season has ended first. The last regular season matches were played during last weekend and the play-off teams are set.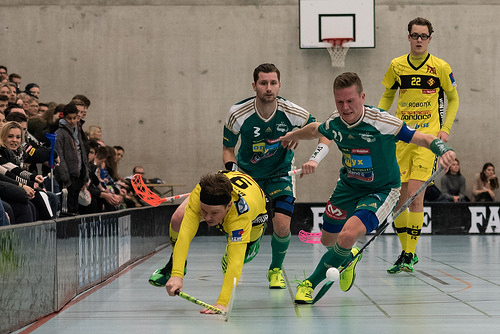 Eight teams proceeded to the play-off round in the Swiss Men's league NLA. SV Wiler-Ersigen won the regular season with 57 points and a rather decent +70 goal difference. HC Rychenberg Winterthur, who came second, were 9 points behind. Reigning champion Grasshopper Club Zurich came third with 47 points. Waldkirch-St. Gallen came 9th, which means their season has ended. The bottom three will face play-outs.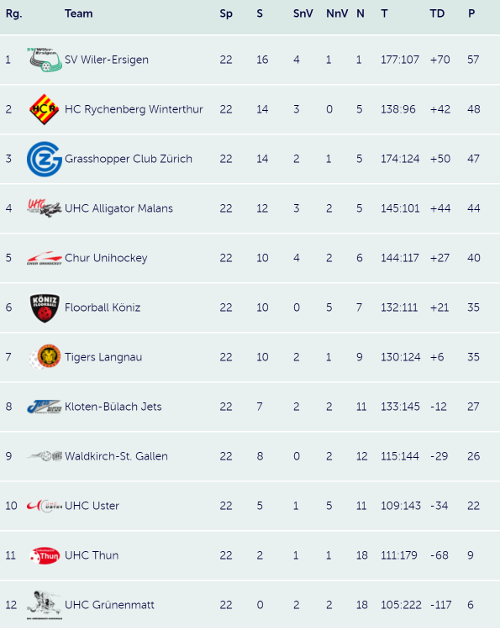 Sp = Matches played, S = Matches won, SnV = Matches won on overtime, NnV = Matches lost on overtime, N = Matches lost, T = Goals scored and Goals scored against, TD = Goal difference, P = Points
Play-off pairs:
HC Rychenberg Winterthur – Tigers Langnau
Chur Unihockey – UHC Alligator Malans
Kloten-Bülach Jets – SV Wiler-Ersigen
Floorball Köniz – Grasshopper Club Zürich
The Men's NLA play-offs will start 4th of March. The Swiss Women´s regular season will end 5th of March.
The Swiss Cup finals will be played next Saturday on the 25th in Berner Sporthalle Wankdorf. UHC Dietlikon and Piranha Chur will battle for the victory in the Women's final and Grasshopper Club Zurich plays against HC Rychenberg Winterthur in the Men's.
Source: swissunihockey.ch
Photo: Markus Aeschimann / Swiss Unihockey Flickr