From Thursday December 15th Czech Sports channel Nova Sport in cooperation with the Czech Floorball Federation are broadcasting Swedish Top League Svenska Superligan (SSL) matches.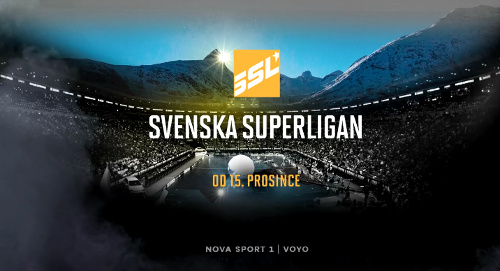 Starting today, the Czech TV channel Nova Sport broadcasts SSL matches. All in all, the TV channel will broadcast 60 matches, including the Swedish Superfinal which takes place April 22nd, five days after the Czech Superfinal. The Czech Top League Tipsport Superleague is also broadcasted in Czech television:
– Broadcasting the SSL together with Nova Sport and the fact that floorball appears on two Czech TV channels is a confirmation of the popularity of the sport and the growing interest. This season, we have some of the best Czech players in the SSL. We are happy that the Nova Sport viewers will be able to watch them play, says the President of the Czech Floorball Federation Filip Suman.
– Floorball is one of the most popular sports in Czech Republic and the SSL is probably the best floorball league in the world. We have run a few test broadcasts and they've been successful. These are the reasons why we are broadcasting SSL on our sport channels, says Dusan Mendel, the Chief of Nova Sport. Nova Sport has 1,7 million subscribed households in Czech Republic and Slovakia.
The Czech player Tom Ondrusek, who plays for SSL team Warberg, is the patron of the upcoming matches. The following Czech players can also be seen on Nova Sport: Milan Tomasik (Linköping*), Matej Jendrisak (Linköping), Ondrej Mikes (Thorengruppen), Jakub Hubalek (Throengruppen), Martin Tokos (Falun) and Adam Stegl (Hölviken).
The main commentator in the matches will be Tomas Borovec, who has also commentated the NHL for 10 years.
Upcoming matches:
Thursday 18:55 Linköping IBK – Växjö Vipers (LIVE NS 1)
Saturday 14:55 Höllviken IBF – Warberg IC (LIVE NS 1)
Sunday 12:55 Team Thorengruppen SK – Karlstad (LIVE NS 1)
Source: Cesky Florbal
* = The SSL team where the player plays