The second Swiss Indoor Sports Supercup will be held in Zurich 3-4.9 and in Freiburg 8-9.10. Floorball will be played 3.9.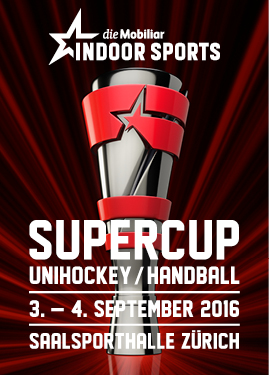 The Indoor Sports Supercup is a tournament that combines four different sports. It's organised by the federations of handball, basketball, volleyball and floorball. All four sports have two categories: men and women.
Four floorball teams from the Swiss league, NLA, will take part in the tournament. Reigning women´s champion Piranha Chur and the silver medalist UHC Dietlikon. When the two teams met in the Superfinal in the Spring the match was decided on penalty shots. On the men´s side the two teams will be the reigning champion GC Zurich and silver medalist Floorball Köniz. GC Zurich won against Floorball Köniz 10-8 in the Superfinal.
Match Schedule:
3.9. 15:30 Piranha Chur vs UHC Dietlikon
3.9. 19:00 GC Zurich vs Floorball Köniz
Official webpage: www.indoorsports.ch