The Swedish manual wheelchair champion team Nacka HI dominated the Prague Wheel Open (PWO) again. The sixth edition of the tournament for wheelchair players was a great sport event with thrilling matches.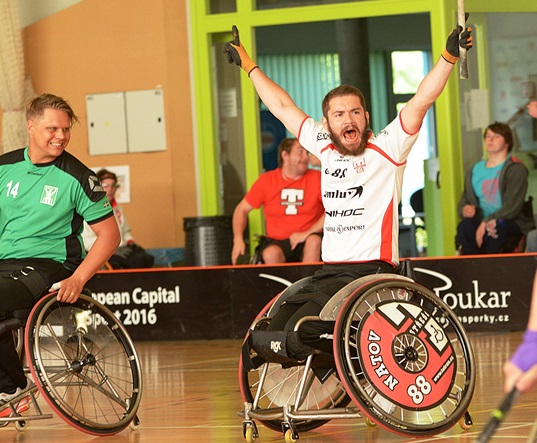 Jan Natov from Superleague team Boleslav and the Czech national team celebrating
The Prague Wheel Open was attended by 10 teams from five different countries. The Swedish team was considered the biggest favourite together with the finalists from the Czech wheelchair league České Budějovice and Tatran Střešovice as well as the current champion of the Netherlands, Haag88.
The Swedish wheelchair players dominated group A. "Scorpions" from České Budějovice took the second place in the group by winning three matches and losing just one match against Nacka with 1-6.
Group B was much tighter. The Polish wheelchair players from team Wheel Wolf, who play in the Czech wheelchair league, collected the most points. But they also lost one match against the last team of the group, Doing from the Netherlands. Tatran Střešovice and Haag88 also collected seven points.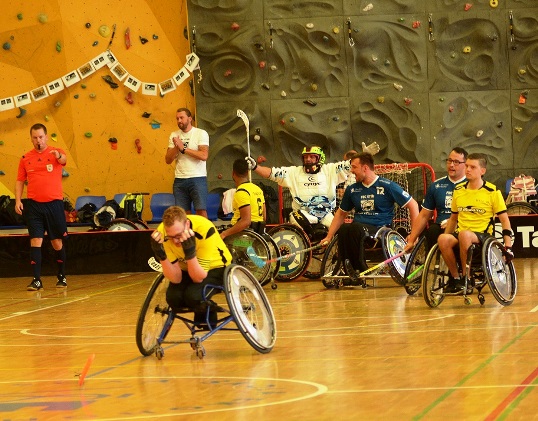 In the first semi-final game Nacka played against Tatran. The team from Prague entered the game with determination and only after two minutes and a pass from Jan Natov, who represents the Superleague team Boleslav and the Czech national team, found Tomáš Pek and Tatran scored the first goal. The Swedes were however very productive and could count on their most dominating duo Brorsson – Almlöf. The top scorer of the tournament Alexander Brorsson scored twice and Tommy Almlöf collected three points (1+2). Nacka won 4-2 despite the great efforts of the current Czech champions.
In the second semi-final match the score between České Budějovice and Wheel Wolf was 1-1 for a long time. After two goals of Ivan Nestával and František Šindelář the South Bohemians finally won 3-1.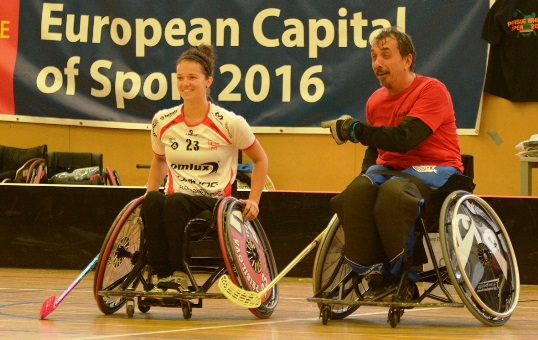 There were three matches played before the final game. Team Switzerland reached the seventh place by beating the Holand EU-elites. Haag88 then showed a great performance by winning against SKV Praha ComAp Team 6-0 and ending on fifth place. The bronze medal game between Wheel Wolf and Tatran Střešovice was truly thrilling. Wheel Wolf from Poland finally won the game 3-2.
The final was played between the Swedish Nacka and Budějovice. In the finals the striker Brorsson scored again and thanks to his hat-trick he made a total of 12 goals in the tournament. The most productive player of the tournament, Almlöf, supported him with another goal and an assist which gave him a total of 22 points (11+11) during seven matches. The Swedes showed their excellency again and after two gold medals and one bronze medal in the previous three tournaments the team could again celebrate the victory.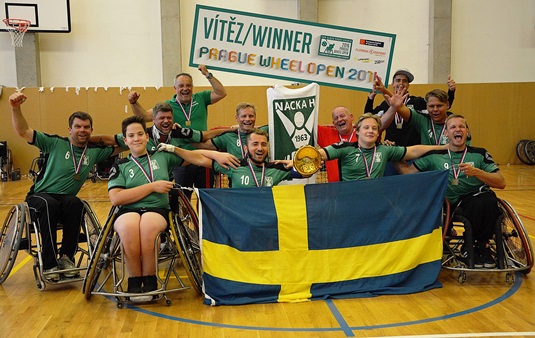 Source & more information:
www.praguewheelopen.cz/en/index
www.facebook.com/praguewheelopen
Photos: www.flickr.com/photos/topclassevent/sets/72157671190629681
Game replays: www.youtube.com/channel/UCKIzyV–7C2dA-i3KbK11ew