The National team players Mika Moilanen (FIN) and Cecilia Di Nardo (DEN) are transferring to new clubs.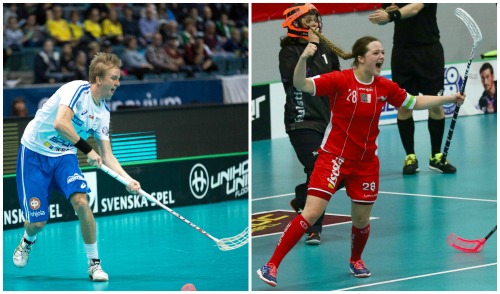 The Finnish national team player Mika Moilanen is returning to his home country after playing in the Swedish FC Helsingborg for the past three seasons:
– I'm really looking forward to my first season in Finland after the three seasons in Sweden. It will be nice to see how much the game has changed during the recent years, says Moilanen.
The Sports Manager of Eräviikingit, Joonas Naava, is pleased to have Moilanen in the team:
– He is one of the world's best in his position. Fast, reaches the ball well and is also efficient.
During his time in the Finnish top league (Salibandyliiga), Moilanen scored 115 goals in 121 matches. In 77 national team matches he has scored 55 goals. One of the reasons Moilanen chose EräViikingit is his will to win:
– This is a great opportunity to win the national league title in Finland, which I don't have yet, says Moilanen.
Source: EräViikingit
Mika Moilanen** (FIN), Forward – Transferring to EräViikingit (FIN) from FC Helsingborg (SWE)
International success:
WFC: 2014, 2012, 2010
WFCQ: 2016, 2014
EuroFloorball Cup: 2010
EuroFloorball Tour: 2016, 2015, 2014, 2013, 2012, 2011, 2010, 2009
International Tournaments: 2013, 2011, 2010
FIN-SWE Challenge: 2015, 2014, 2013, 2012, 2011, 2010
The Danish national team player Cecilia Di Nardo's season ended in the best way. She won the Danish national league title with her team Århus FK. Next season Di Nardo is going to play in the Swedish top league (SSL) with Malmö FBC:
– I have missed the SSL, says Di Nardo who has previously played for the SSL team Dalen.
Malmö FBC is glad to have the 2015 World Floorball Championsip's top scorer in their roster:
– In Cecilia, we'll get a player who knows how to score and takes responsibility inside the team. She has proved herself in the Danish league, the SSL and the WFC. It will be interesting to see her development now with more training and faster tempo.
Source: Malmö FBC
Cecilia Di Nardo** (DEN), Forward – Transferring to Malmö FBC (SWE) from Århus FK (DEN)
International success:
WFC: 2015, 2013, 2011, 2009
WFCQ: 2015, 2013
Champions Cup: 2012
EuroFloorball Cup: 2010, 2009
International Tournaments: 2015, 2013, 2012, 2011, 2010, 2009, 2008
Other tranfers:
Niko Juhola** (FIN), Forward – Transferring to Grasshopper Club Zurich (SUI) from Classic (FIN)
International success:
U19WFC: 2007
Champions Cup: 2013
EuroFloorball Cup: 2007-2008
Simon Sedin* (SWE), Forward – Transferring to Ömsköldsvik IBK (SWE) from Floorball Thurgau (SUI)
International success:
Champions Cup: 2012
U19 International Tournaments: 2010
Philipp Wuggenig* (SUI), Forward – Transferring to UHC Basel United (SUI) from Hot Shots Innsbruck (AUT)
International success:
WFCQ: 2016
* = Transfer not completed
** = Transfer not yet arrived to the IFF Office
Source:
http://unihockey.ch/meisterschaft/sml-mnner/news/silly-season-17410/
http://paakallo.fi/2016/05/huhumaa-naisten-salibandyliigan-siirtohuhut-ja-vahvistetut-siirrot-kaudelle-2016-17/
http://paakallo.fi/2016/04/huhumaa-miesten-salibandyliigan-siirtohuhut-ja-vahvistetut-siirrot-kaudelle-2016-17/
www.innebandymagazinet.se/ibm/artikel.asp?aid=60826
http://innebandymagazinet.se/ibm/artikel.asp?aid=60847
Photos: IFF Flickr