Pixbo Wallenstam won the Women´s Superfinal against KAIS Mora 6-5 in a tight match. The Men´s Superfinal was as exciting, Storvreta IBK winning the gold in front of a new spectator record. Storvreta also secured a ticket to the Floorball Champions Cup 2016!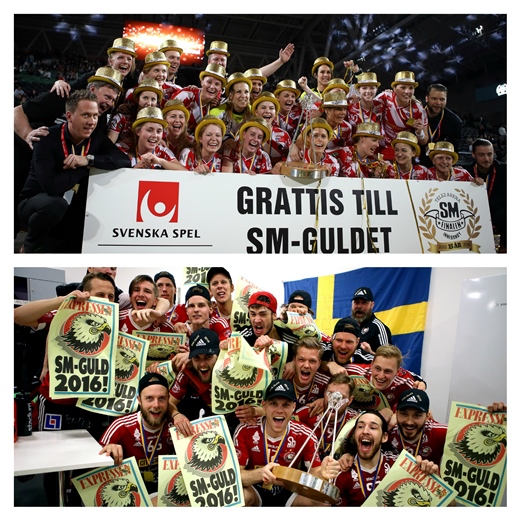 Women´s Superfinal
After eleven years, Pixbo Wallenstam women´s team were back in the Swedish Championship Final. Pixbo Wallenstam, the winner of the regular season, finalised their super season by winning the gold in the Tele2 Arena in front of 13 456 spectators.
In the final against the reigning champions KAIS Mora, Pixbo took a 3-1 lead in the first period. But KAIS Mora came back. When more than half of the game was played, the Player of the Year, Anna Wijk, gave an assist to Malin Andréason, and the score was 4-3 to KAIS Mora. Pixbo had however more to give.
The 17-year-old Frida Ahlstrand scored the equaliser and the Czech national team player Eliska Krupnova took Pixbo to a 5-4 lead in the end of the second period.
Caroline Böcker stretched Pixbo´s lead to 6-4 after nine minutes into the third period and Moa Tschöp´s goal some minutes before the end was not enough for KAIS Mora to even the score. The Championship gold was Pixbo Wallenstam´s first ever in the women´s category.
Game statistics:
Pixbo Wallenstam-KAIS Mora 6-5 (3-2, 2-2, 1-1)
First period
0-1 02.00 Tone Einstulen (Jessica Eriksson)
1-1 07.15 Frida Ahlstrand (Rebecca Heed Arvidsson)
2-1 10.53 Stephanie Boberg (Sara Helin)
3-1 11.12 Julia Larsson (Alicia Fylke)
3-2 15.15 Therése Karlsson (Amanda Wall)
Second period
3-3 00.54 Malin Andréason (Moa Tschöp)
3-4 10.37 Malin Andréason (Anna Wijk)
4-4 11.28 Frida Ahlstrand (Isabell Krantz)
5-4 17.40 Eliska Kurpnova (Sara Helin)
Third period
6-4 09.00 Caroline Böcker
6-5 14.39 Moa Tschöp (Anna Wijk)
Spectators: 13 456
Men´s Superfinal
18 166 spectators watched the thrilling Men´s Superfinal between Linköping and Storvreta in the Tele2 Arena. This is new attendance world record in floorball!
Albin Sjögren and Mattias Samuelsson gave Storvreta an early 2-0 lead. The second period was more even and Linköping picked up from 1-3 to 3-3 before the final period.
Linköping took the lead for the first time with Martin Karlsson´s shot in the third period. Albin Sjögren then evened the score on powerplay after a nice passing combination. Just minutes later, Storvreta´s captain Mattias Samuelsson scored his second goal of the game, the decisive game winning 5-4 goal to Storvreta.
This was Storvreta´s fourth National Championship gold, the previous gold was from 2012.
Game statistics:
Storvreta-Linköping 5-4 (2-0, 1-3, 2-1)
First period
1-0 07.45 Albin Sjögren (Rasmus Sundstedt)
2-0 16.44 Mattias Samuelsson (Henrik Stenberg)
Second period
2-1 00.39 Matej Jendrisak (Martin Karlsson)
3-1 04.35 Jimmie Pettersson (Henrik Stenberg)
3-2 16.38 Martin Karlsson (Christian Mattsson)
3-3 17.06 Gustav Fritzell (Martin Hovlund)
Third period
3-4 03.05 Martin Karlsson (Anton Karlsson)
4-4 07.59 Albin Sjögren (Alexander Rudd)
5-4 10.17 Mattias Samuelsson (Jimmie Pettersson)
Spectators: 18 166 (new world record)
Teams in the Champions Cup 2016
Pixbo Wallenstam had already secured their spot to both the Men´s and Women´s Champions Cup 2016 by winning the regular seasons. Storvreta IBK also earned the Champions Cup ticket by winning the Superfinal and IKSU will be the second team from Sweden in the Women´s Champions Cup (as they were the regular season runner-up).
Photos: Per Wiklund
Source & more information: www.innebandy.se