The EuroGames is a HLBTIQ-sport event and in 2016 the event will take place in Helsinki and it's neighbouring cities of Vantaa and Espoo, from 29th of June to 2nd of July 2016.
There will be at least 14 different sports in Helsinki EuroGames 2016: badminton, basketball, bowling, bridge, dancing, floorball, football, golf, squash, swimming, tennis, track and field & cross-country running and volleyball. Non-competitive sporting events are as well offered, for example yoga. We are expecting all together 3 000 participants and 2 000 other visitors from all over the world to arrive in Helsinki. Being the neighbouring country and having good transport connections to Russia and the Baltic countries we expect many participants from there.
Call your friends, collect team and join the event! The registration will be open until 31.05.2016.
Mikko Kohonen joins EuroGames Support Athlete team
EuroGames Helsinki are proud to have floorball player Mikko Kohonen as one of the support athletes.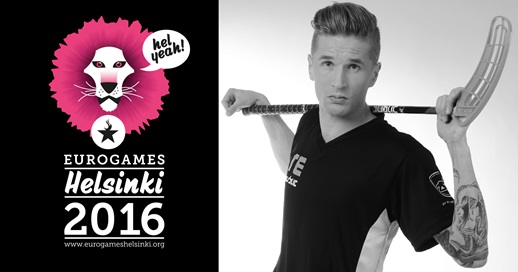 The Finnish floorball player Mikko Kohonen is one of the most recognisable faces in floorball, both in Finland and internationally. Kohonen has won the World Floorball Championships twice and three times the Finnish championships. Kohonen holds many records in the Finnish Floorball League: he has scored more goals than any other player in the Finnish League and is the top scorer of a single Championship final game. He is also the record holder of most scored goals in the playoffs 2013 as well as the top scorer of the playoffs 2015. He is the all time top scorer in the Finnish Floorball League. His home team is Seinäjoen peliveljet, SPV, Seinäjoki. Mikko Kohonen is a proud father of three children.
Mikko Kohonen believes that everyone can make this world a little bit better place if we work together.
Source & more information: http://2016.eurogames.info/