The Superfinal will be played for the first time in Finland at Hartwall Areena 16.4. The winners will get a ticket to the 2016 Champions Cup, which will be held in Borås, Sweden 30.9-2.10.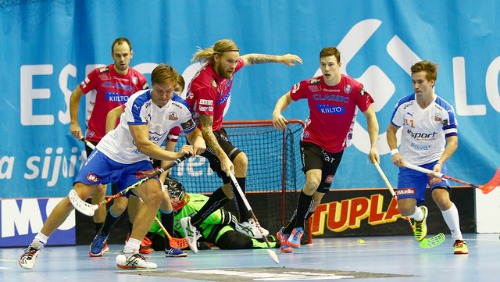 Men's semi-finals are over in Finland. Classic was first to ensure their place in the Superfinal. They defeated Viikingit with match wins 4-2. Classic has been one of the favourites throughout the season because of their strong roster that contains national team players. They also got a new head coach this season, Petteri Nykky. Nykky is known as Finland's Men's former national team coach that brought Finland two WFC gold medals. He has also coached Switzerland. Classic has never won the championship in the Men´s league.
The second team in the Superfinal is Oilers. Oilers played against Happee in the semi-finals. The rather dramatic decisive match was played on Friday. The match went into overtime and due to no goals the match continued to penalty shots. The winning penalty shot was taken by Oilers player Markus Bollström, but there has been a lot of discussion if the penalty shot (video 15:42) should've been disallowed. In addition Happee player Jonne Junkkarinen's penalty shot (video 13:52) has also been discussed. All in all, Oilers won against Happee with match wins 4-2.
Superfinal:
Classic – Oilers
The bronze match has already been played. Happee won against Viikingit 8-7 on overtime. This was the first time since season 2002-2003, that Viikingit has ended the season without a medal. This was also the last time that Viikingit will play in the league due to EräViikingit merger.
Source:
www.floorball.fi & www.paakallo.fi
Photo: Juhani Järvenpää