Over 4000 fans were cheering at Arena Riga during Latvian's Superfinal last weekend.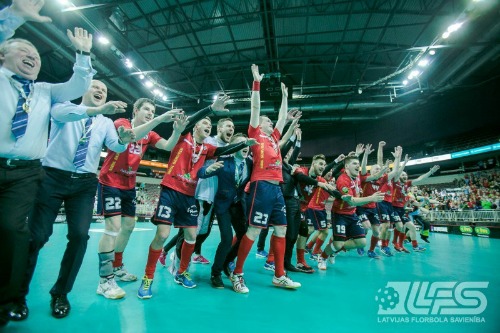 Elvi Liga Men
Regular season winner Lielvarde faced last season's silver medalist Mogo-RTU/Rockets in the Superfinal. Both teams were neck and neck until the last five minutes of the match. Lielvarde scored and was leading the match 5-3. Despite of Mogo-RTU/Rockets's effort to play without goalkeeper, Lielvarde sealed the deal with two more goals. This was the second time that Lielvarde has won the title. Last time the team was celebrating gold in season 2011-2012.
Lekrings and Ulbroka/FS Masters battled for the bronze medal. Lekrings won the match 8-5.
Placements:
1. Lielvarde
2. Mogo-RTU/Rockets
3. Lekrings
4. Ulbroka/FS Masters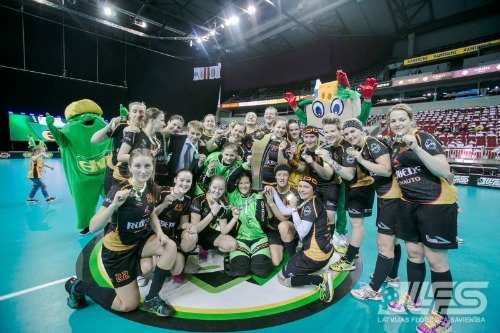 Elvi Liga Women
Rubene faced FK NND in the Superfinal. At the end of the first period Rubene was leading the match 3-0. FK NND was unable to decrease the score and after the second period the score was 5-1. Only one goal was seen in the third period as Rubene's Juta Muravska scored her third goal. Rubene won the match 6-1 and became champions for the third time in a row.
In the bronze match, FK "Kekava" and Rigas Lauvas were battling for the medal. FK "Kekava" won the match 7-2.
Placements:
1. Rubene
2. FK NND
3. FK "Kekava"
4. Rigas Lauvas
Source and photos: www.floorball.lv
The Group Ballot for the 11th Men´s World Floorball Championships (WFC) Final Round took place in Arena Riga before the Men´s final. The Men´s WFC 2016 will be played in Riga, Latvia. More information here.