This year will be the fourth time when BLINDSAVE is organising the world's biggest international goalie camp. Last year a total of 80 goalies from more than 15 countries participated.
During the camp goalies will have special trainings together with professionals such as SSL and Swedish national team goalie Patrik Åman and legendary Finnish goalie Henri Toivoniemi. The camp will be held in Latvia from July 8 till July 10 2016.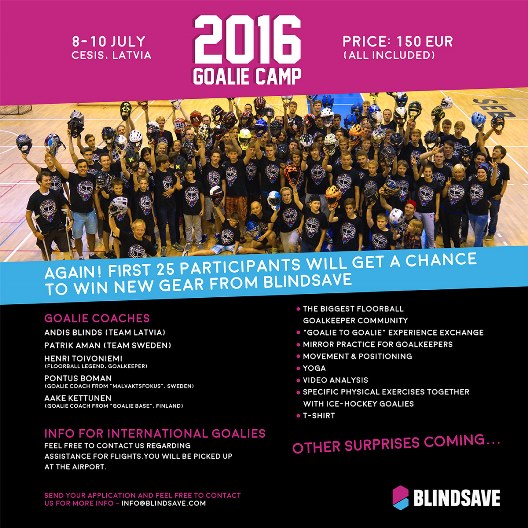 This year also the coach team of the camp is strengthened and for the first time to our leading goalie coaches will get help from Pontus Boman (SWE) from "Malvaktfokus" and Aake Kettunen (FIN) from "Goalie Base" who are working as coaches in their countries. Martins Raitums, a former Latvian national ice-hockey team goalie, will work as physical trainer
During the camp goalies will have field practices that include goalie movement and positioning, video analysis, reading of the game, special physical training, yoga and other specific features. There are no age, gender or skill level restrictions to participate in this camp.
– It's a fourth year in row when we are organising such goalie camp. Every year we are trying to offer something new and valuable for goalies. This year will not be an exception. We have attracted new and very experienced coaches and mentors who will help to goalies improve their skills, says BLINDSAVE goalie camp organiser and goalie Andis Blinds.
The camp's fee is EUR 150 and it includes all food and accommodations as well as special T-shirt. Besides, th first 25 participants have a chance to win goalie equipment from BLINDSAVE. Organisers will accompany and take all the goalies from the airport directly to the camp.
BLINDSAVE goalie camp 2015 was attended by 80 goalies from all around the world. There were goalies from Latvia, Finland, Sweden, Czech Republic, Austria, Norway, Belgium, UK, USA, Poland, Estonia, the Netherlands, Russia, Singapore, Romania and Switzerland.
For more information about the camp visit: www.blindsave.com/camp/goalie-camp-2016 or www.facebook.com/blindsave.
Video from previous years:
2015: https://www.youtube.com/watch?v=p0psICcpQxg
2014: https://www.youtube.com/watch?v=2nPbwIhjoKw
2013: https://www.youtube.com/watch?v=_eQSK6fWNks
Contact:
BLIND SAVE Ltd.
Phone: +371 29660005

E-mail: oskars@blindsave.com
www.blindsave.com