Switzerland's former national team captain Silvana Nötzli has decided to end his playing career.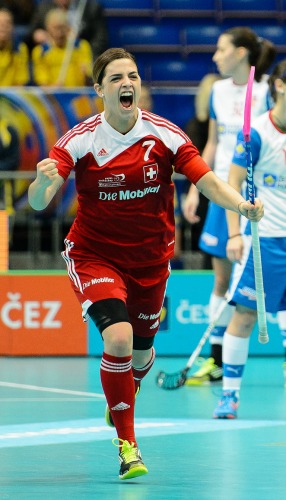 Silvana Nötzli started her top league career ten years ago in the NLA with Red Ants Rychenberg Winterthur. She won the national championship with the same team in 2011 and after that transferred to KAIS Mora, Sweden. In 2013 Nötzli was chosen as the best defender in the Swedish top league SSL.
After winning the national championship with Mora, she decided to return to the Red Ants. Now the 27-year-old defender has played her last season:
– Every story has to end – turn the lights off, wrote Nötzli on social media.
Nötzli's last match wasn't the most glamorous, since the team was playing playouts:
– I would've rather played my last match in the Superfinal, but there's nothing I can do about it. It is still the right time to quit.
Nötzli played 75 matches in the Swiss national team. She represented the team in the WFC in 2013, 2011 and 2009. Therefore she has one bronze and one silver medal from the WFC. She has also played in the EFT 2008-2014.
Source:
http://innebandymagazinet.se/IBM/artikel.asp?aid=60443
http://unihockey.ch/meisterschaft/sml-frauen/news/silvana-ntzli-hrt-auf-17216/