In the game of Day 2 in the Americas WFCQ Canada started extremely strong having scored four goals in the Jamaican net after just 39 seconds, ripping the Jamaican defense to absolute shreds by their accurate passing.
The Jamaican coach had no other choice than to take a time-out and rearrange the Jamaican defense, which also paid off as they now were able to, from time to time steal the ball and build a fast counterattack. The first period ended with Canadas 6-0 lead.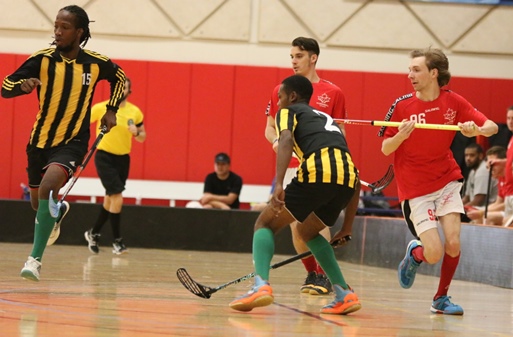 Despite only having six field players and having been in the washing machine yesterday against the USA, the Jamaican fought bravely in front of their own goal and were able to execute good breakouts turning the play, but the last pass or the shoot taken did unfortunately not giving them a reward in the end, leaving them scoreless also after the second period.
Canada however continued scoring goals with a good precision and the result was 18-0 after the second period. Despite a number of excellent chances Jamaica wasn't able to score their first ever goal against Canada even in power play. The question is still how well could Jamaica play if they would be able to bring a whole team to the event, as they have clearly developed since the last WFCQ in 2014.
In the third period Nickalas Japp broke free from the side and scored a lucky goal surprising the Canadian goalkeeper completely. Jamaica got an opportunity to score a second goal, when Nickalas Japp was brought down in a goal scoring situation, but Caliph Kerr was unable to overtake the goalie in the penalty shot rewarded. Canada started to seek the really nice clap-clap goals in the end of the game, securing the victory with 27-1

With the win over Jamaica, both Canada and USA secured their spot in the WFC2016 Final Round in Riga, Latvia, so the hegemony of the Americas is up for grasps in the final match of the WFCQ tomorrow.
Best players:
Canada: Felix Robillard
Jamaica: Nickalas Japp