The last two teams for the 11th Men's World Floorball Championships will be decided this week-end in the Americas WFCQ played in the United States Olympic Training Center in Colorado Springs, where Canada, Jamaica and the United States.
In the first match of the qualification tournament, the USA took on Jamaica, which now participated in the WFCQ for the second time. USA took an early lead and forced the Jamaicans to try defend the area just in front of their goal. Team USA rolled waves of attack after attack on the Jamaican goal, playing the ball around the Jamaican defense formation. Jason Daye was in for a long and tough night, with balls raining from all directions, still 35 saves in total in the game.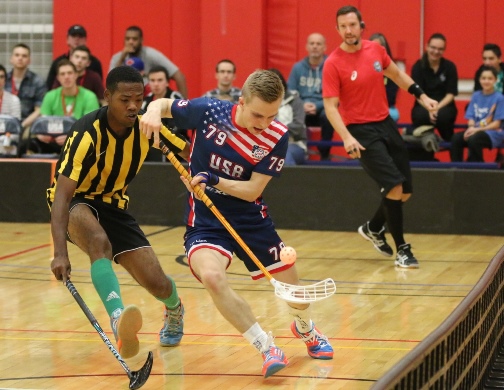 In the beginning of the game, USA was scoring with a very high percentage and the fast Jamaicans, were able to build only a few counterattacks with some excellent shots, but yet without scoring a goal ending the first period with a lead for USA with 7-0.
Jamaica was able to score their second international goal by Nickalas Japp assisted by Calph Kerr, directly after the face-off making it 1-9 in the middle of the second period. USA increased the phase and were able to score some ten goals in the 2nd period and after the Jamaican goal completely deny any Jamaican attacks, ending the period with a 17-1  lead for USA.
USA continued to build attacks and play the ball in to the best scoring sectors, giving them more and more time and space to shoot, as the Jamaicans grew tired, with their only six field players. Especially the USA first line lead by Stefan Zimmermann, did what they wanted on the field, scoring in total over half of their goals. In the end USA took a convincing victory with 27-1 and can start to prepare for the game against Canada on Sunday, which will tomorrow play against Jamaica.
Best players:
Jamaica: Peter Miller
USA: Stefan Zimmermann