In less than three months, Belleville will host 16 countries and 400 athletes for the city's first international sporting event May 3-8, 2016.
Official players from Team Canada attended the countdown celebration at the Quinte Mall Kindness Court on Saturday, May 6 to promote the U19 World Floorball Championships. A small floorball rink was set up for children and adults of all ages to try floorball with the best floorball players in Canada.
– There are a lot of positive things happening right now for the world championships. Tickets are on sale now, and the organising committee is getting more requests from community businesses and local citizens asking how they can get involved through sponsorship, volunteering, or as spectators, said Tracey Legault-Davis, secretary for the U19 World Floorball Championships.
Floorball has become more popular with Canadian youth, especially in the Belleville area. Five players from Belleville have been selected into the top 28 for Team Canada prospects at the U19 World Floorball Championships, including one player from Trenton and three more from the Cobourg and Port Hope areas. There will be one more round of cuts to decide the final 20 players representing Team Canada at the World Floorball Championships on home soil. Current roster found here.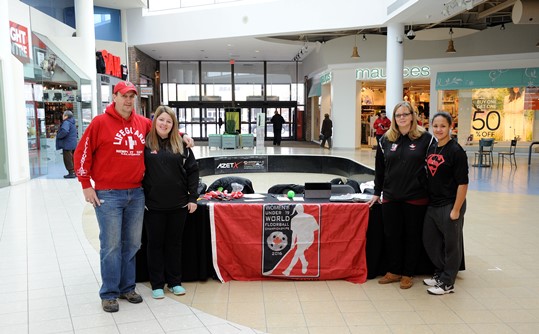 – The coaching staff had a difficult time figuring out which players were going to make the first big cut. Having as many talented athletes as we did to choose from made for a lot of tough decisions, but we can only bring 20 to World's in May. The job isn't over yet, said Todd Crawford, Head Coach for the Under 19 Canadian Women's Floorball Team, also from Belleville.
Tickets and more information on how to get involved with the Under 19 Women's World Floorball Championships is available at www.floorball2016.ca.
About the U19 World Floorball Championships 2016
Belleville, Ontario will host the U19 Women's World Floorball Championships May 3-8, 2016. 15 international teams will visit Belleville at the Quinte Sport and Wellness Centre to play floorball. The World Championship Development Committee is comprised of local members to help ensure the event's success.
The 2016 Under 19 World Floorball Championships website: www.floorball2016.ca
Social Media:
Facebook (www.facebook.com/U19WFC)
Twitter (@U19WFC)
Instagram (U19WFC)
Hashtags: #U19WFC & #floorball