Switzerland crushed Spain in the morning and thus won all their qualification matches. Germany also took a clear win against Great Britain.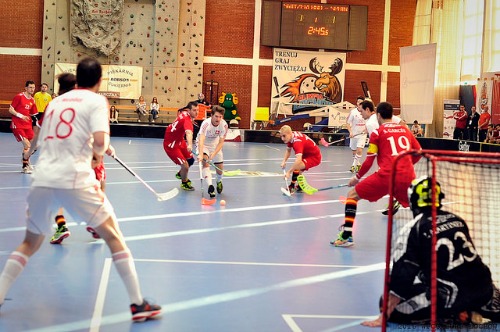 It took Switzerland less than a minute to score the opening goal against Spain. Spain tied the score a few minutes later when they fore checked the ball from Switzerland. Spain didn't get to celebrate for long as Switzerland's Nico Scalvinoni scored a power play goal. There were no more goals from Spain in the first period and the rest of the period was dominated by the Swiss.
Spain decreased the score to 2-6 at the start of the second period, when Pablo Lopez Reparaz was left unguarded in front of the goal. Most of the second period was played in Spain's defense zone. Switzerland was moving the ball well and after 40 minutes the score was 12-2 for the Swiss. Switzerland was also on the driver's seat for the whole third period.
Switzerland won the match 19-2. They had ball control for almost the whole game. The floorball giant's fast paced passing game and accurate shots were too much for Spain, which is ranked 22nd.
Best players:
#8 Camenisch Christoph (SUI)
#5 Bernardino Carrion Juan (ESP)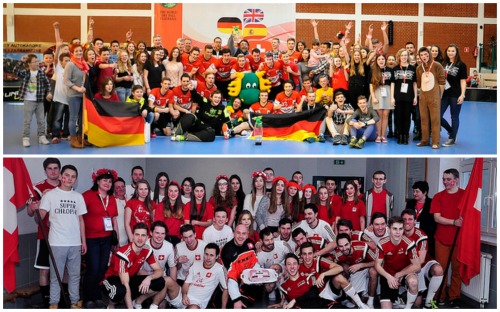 Germany was the clear favourite due to having over 20 numbers better ranking than Great Britain. This was also seen in the first period, when Germany scored three goals within the first five minutes. All in all they scored six times in the first period. One of the goals was an unfortunate own goal, when Great Britain's Chris Gladney blocked a pass and it bounced straight in the net from between the goalkeeper's legs. Great Britain wasn't totally unlucky in the first period, they also scored one goal.
The second period was similar to the first one. Germany hold the ball and was looking for opportunities to score while Great Britain was focusing on defending. Only this time Great Britain's defense was tighter, and Germany scored only once. Great Britain also changed their goalkeeper half way the period. Germany dominated the third period and this time were more efficient and scored six goals.
Germany won the match 13-1. They had most of the ball control and were more skilled than Great Britain. Great Britain has great potential and energy, but it wasn't enough against a top ten country.
Best players:
#22 Burmeister Alexander (GER)
#87 Jones Kaj (GBR)
Switzerland was the strongest team of the tournament and won all their matches. They will be seen together with Germany in the Final round of World Floorball Championships. Poland played well, but it wasn´t enough to get a direct ticket to Latvia. However, they still qualified as one the best 3rd teams. Spain and Great Britain played some entertaining matches and both countries  have great potential.
You can find the results here
Photo: Katarzyna Politowska