The last day offered the audience a lot of goals. The first match of the day, Austria versus Denmark, ended with score 2-19. The second game which was played between Estonia and Finland, ended with the score 1-15. Estonia and Finland qualified to the World Championships as two best teams of the tournament. (Denmark qualified as the third best.)
Austria – Denmark  2-19
Denmark started the game knowing that in order to qualify to the World Championships in Riga they need to score as many goals as possible, which they successfully accomplished. At the third minute of the game Austria received a five minute penalty for dangerous play, during which Denmark scored six times. Austria experienced difficulties with getting their game on full speed. Denmark played in a good flow throughout the game and match ended with the score 2-19.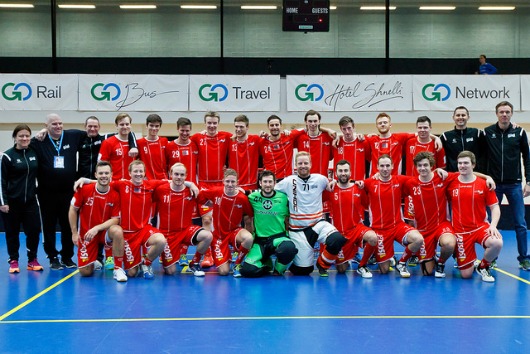 Best players:
Austria: #12 Marcel Kramelhofer
Post match interview: https://www.youtube.com/watch?v=ruKuTgTN7Bw&feature
Denmark: #15 Brian Nielsen
Post match interview: https://www.youtube.com/watch?v=DF6rL22XU1I&feature
Estonia – Finland  1-15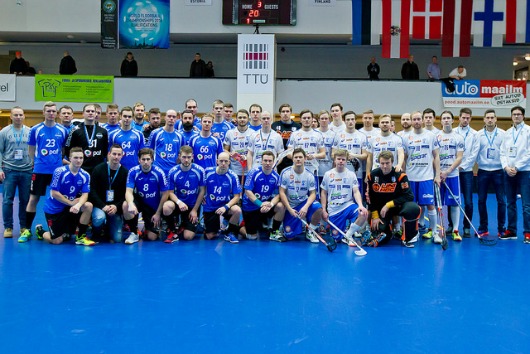 The last match of the tournament was played in front of a large home crowd. Both teams had already secured their places in the WFC in Riga and played without any pressure. Finland played well and was dominating the match
rom the beginning. Finland scored 15 goals and did not leave any chances to Estonia. At the 47th minute Estonia managed to score their first and last goal. The game ended with the score 1-15, Finland earning the first place in the tournament.
Best players:
Estonia: #18 Mats Tamme
Post match interview: https://www.youtube.com/watch?v=xHPQEt6TIJA
Finland: #76 Rasmus Kainulainen
Post match interview with #22 Jani Kukkola:
https://www.youtube.com/watch?v=mInhwGAT-fo
Photo: Aldis Toome