Switzerland, Germany, Poland, Spain and Great Britain were playing in the WFCQ 2016 EUR 3.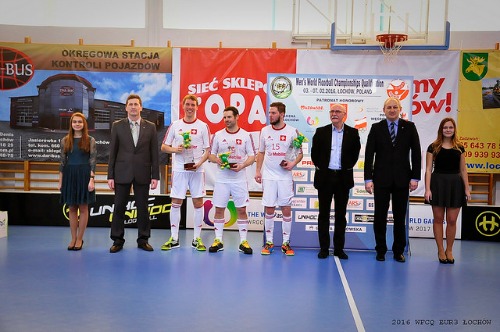 All-Star team consists of players from three countries: three from Switzerland, two from Germany and one from the host team Poland. The team was chosen by the Local organisers and national team coaches.
Best Goalkeeper: #91 Mike Dietz (GER)
Best Defender: #11 Michal Sienko (POL)
Best Defender: #13 Emanuel Antener (SUI)
Best Forward: #15 Nino Walti (SUI)
Best Center: #19 Matthias Hofbauer (SUI)
Best Forward: #10 Janos Broker (GER)
Out of the five teams, Switzerland and Germany got direct tickets to the Final round of World Floorball Championships, which is held in Riga, Latvia.
Photo: Katarzyna Politowska