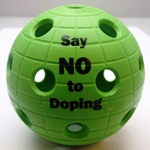 Methylhexaneamine is a specified stimulant that is prohibited in-competition under the current WADA Prohibited List (S6.b – Specified Stimulants).
The IFF Medical Committee wants to inform all floorball players of the particular risk associated with Methylhexaneamine, which can be found in many supplements and under many different names.
– As a general rule all athletes should exercise extreme caution when using any food supplement product, as these are often not subject to strict manufacturing controls, and may contain prohibited substances that are not declared on the label, or in different concentrations than stated on the label, IFF Medical Committee Chair Walter Frey explains.
Examples of products that currently list some form of methylhexaneamine as an ingredient on the label include:
Jack3d – USPlabs

OxyELITE Pro – USPlabs

Hemo-Rage Black Ultra Concentrate – Nutrex

Rezolution – LG Sciences
At a minimum, all players must check the product label for methylhexaneamine. This stimulant, like many drugs, has several alternate names, including:
methylhexaneamine OR methylhexanamine

1,3-dimethylpentylamine OR pentylamine

1,3-dimethylamylamine OR DMAA

Geranamine

Floradrene

2-hexanamine, 4-methyl- OR 2-hexanamine, 4-methyl- (9CI) OR 4-methyl-2-hexanamine OR 4-methyl-2-hexylamine

4-methylhexan-2-amine OR 2-amino-4-methylhexane

Forthan OR Forthane OR 1,3-dimethylamylamineforthane
Other related articles published:
CCES Advisory Notes
ITF Press Release
IWF Warning
UKAD Media Release