The 6th Asian Pacific Floorball Championships (APAC) have started in Pyeing Taek, Korea. There are six Men´s teams and three Women´s teams competing over the Championship title.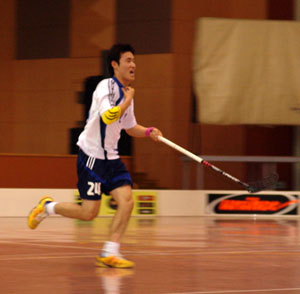 The APAC tournament started on Wednesday and the first day consisted three Men´s matches and one Women´s match.
In the Men´s category the newcomer India got a lesson from Singapore, the experienced Singapore team won the match with 31-0. Also Japan, which was seen in the Men´s WFC in Czech Republic in December 2008, played a strong first match and won Malaysia 14-1.
The home team Korea started their tournament with a tight match against Australia. Australia was stronger in the beginning and with four goals in the first period they took a 6-2 victory although the other periods were even.
The Women´s category was opened with a match between Japan and Korea. For the Korean Women´s team this was the first official international match in history. In the match Japan had the control of the game and they won Korea in their first match 13-0.
On Thursday there will be five matches played in the tournament. Check the IFF front page for Thursday´s results and match records.
The previous results, statistics ans scoring leaders can be found from IFF APAC 2009 page.